Like most non-hardware-exclusive composers and producers, I live and breathe VST plugins in my music-making process. I rely on a vast spectrum of plugins that enable me to discover, nurture, and contribute to a sound palette that continuously expands and redefines what my music can sound like, therefore empowering my imagination to express itself in a tandem, parallel way. It's been a personal, ongoing obsession and mission for the last two decades to consistently be aware of, and implement, the most unique, novel algorithms and DSP processes that I can find. It's an obsession that never falters, or lacks in options. 
With the relentless flood of new plugins hitting the scene every month, my standards and discernment are in a perpetual state of elevation. I gravitate toward plugins that bring something entirely fresh and one-of-a-kind to the table, that ooze personality and consistently leave me awe-struck with their unexpected and dramatic impact on my audio and creative ideas. Due to the sheer volume of releases it can be tough to stay on top of, and some amazing gems can easily go unnoticed by even the most obsessive of producers. So that being said, I wanted to rant about some of the plugins I avidly use lately and why they should NOT fly under your radar if you're into breaking the mold and exploring what's possible. 
Other Desert Cities (Experimental Delay Plugin)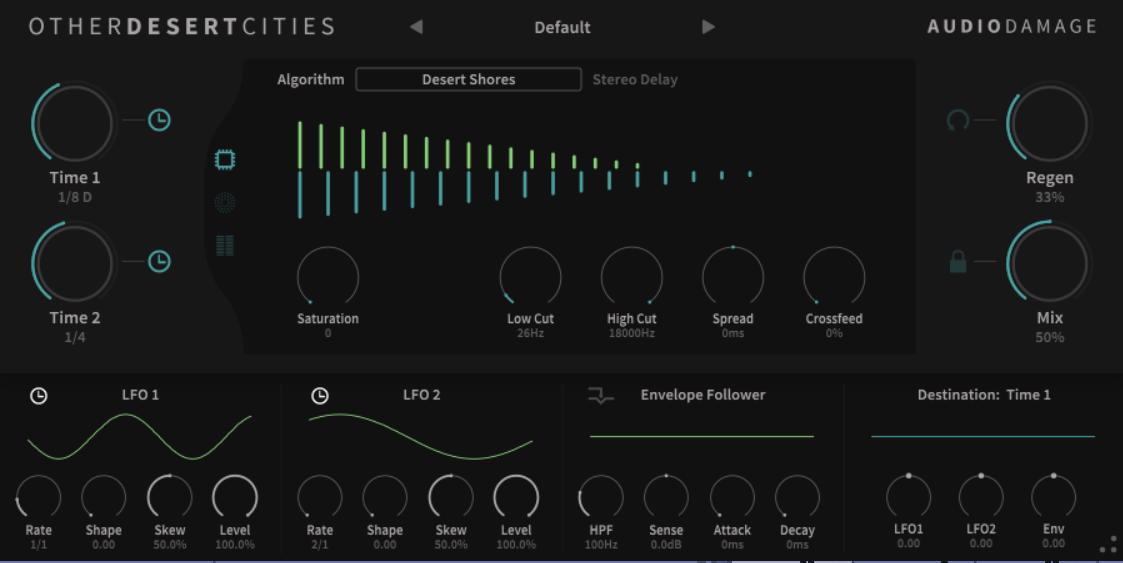 I think I can pretty much safely say that this is the craziest, most multi-faceted and unique delay plugin I've ever come across. With a total of 6 wildly different delay types/algorithms, there are possibilities within this plugin that very quickly and easily lead to previously unheard of sounds, and so many incidental, unpredictable audio occurrences to sample and re-interpret after. There are more traditional delays that have non-traditional parameters that allow you to bend/shape more classic delay effects in weird ways, such as the Stereo Delay, Reverse Delay which are pretty self-explanatory, but the "Cactus Dual Delta delay" really yields some crazy results as far as having 2 independent pitched tape delay heads and can get really funky combinations - but my favorite are the Mirage Multi-Head, which gives you these really warm, dubby and haunting delay lines due to very organic pitch/time fluctuations in the tape play heard that emulate a VHS tape, and the Sky Delay, which definitely has its own aesthetic as far as granular pitch-shifted delays go… Running 2-3 instances of Other Desert Cities in a row, with different delay types, gets wildly insane, and after you find something interesting, turn up the Regen function to loop a section of it and get into un-synched tape loop territory, layering loops from the different instances of the plugin… whoa. That being said, I will say this thing can be buggy, (VST3 in Ableton 11.2) and sometimes I have to run stand-alone "lab" projects to run this plugin and sample the results to bring into my actual project. 
Yum Audio Playtime & Lofi Flux Machine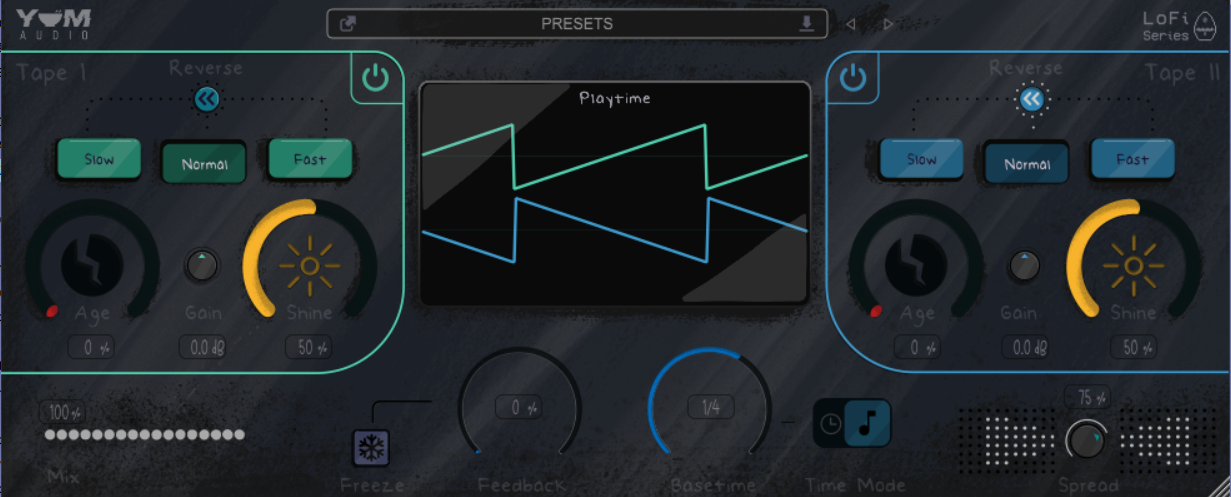 My personal feeling is that there are WAY TOO MANY retro vintage analog tape emulation plugins on the market these days, (it's a trending aesthetic)…and in my opinion, most of them sound far too similar and don't have the more extreme characteristic idiosyncrasies that I'm really looking for, but these really stand apart from the crowd.  Even

though they are two different plugins, I'm mentioning them in the same breath because when they are paired together, I think they're the perfect "all in one" LoFi effect package, anytime I want these types of effects. If you want that truly warm BOC style warpy, bendy, drifty warm synth sound, popping with that extra organic, quirkiness, through software, these plugins shine for the qualities they impart - AND the UI's are just so fun to use. Playtime allows you to split your incoming audio into 2 different independently controlled "tape heads", allowing you to twist the timing/phrasing, pitch, forward/reverse, and reverb/tape delay qualities of each independently and then recombine them to make a much more interesting new version of the original audio. Being able to freeze sections of the audio per tape head and then layer them, you can imagine how that would result in some wild new iterations of the original audio that can then be resampled. It just does all of this in a really lovely way. Then, feeding audio into Lofi Flux Machine, really gives you the "gooey audio" sensations we all crave and then some. It does all the usual things you'd expect from this type of plugin: pitch variation, tape jitter, warble, flutter, noise generation, tape saturation and EQ - but the variations that are possible within the Instability/Jitter/Flutter sections make this shine - by automating shifts between algorithms/types, and making them vary in subtlety, I feel this is the most creative effect like this I've ever used. Combining both of these plugins and finding the sweet spots for the source material is WILD - and spits out so many gems of re-sampling opportunities. Highly recommended. 
It would be easy to sleep on this one - another Chorus/Flange/Phase effect. Seems unnecessary perhaps? It's not, this one pushes the envelope in that realm. What makes this one unique, and IMO an amazing addition to the ol' arsenal, is the extremity of the effect that is possible, and the internal modulation elements. Most effects in this arena are meant to find a sweet spot, and kind of set it & forget it - but the design of this plugin encourages and allows you to go deeper into this sub-set of effect processing. I rarely use phasers and flanging in my music, it's just not usually in line with the aesthetic I'm after - but I've been finding myself using more and more chorus on certain layers - vocals, mid-bass, top end percussion, etc - to just thicken/warm things up and give some more subtle movement to these types of elements. This plugin magnifies that process in a way I've not encountered before, due to its higher intensity of up to 32 voices of layered chorus - it just makes things THICK and rich. I usually don't modulate these types of effects much - but I find this one encourages me to explore internal modulation using 'Rate' to set speed, 'Phase' to spread modulation phase and 'Depth' to set intensity but especially automating the 'Looseness' parameter - getting all of these to interact creates movement in certain sounds that I've not heard before. The option to EQ/Filter the layered voices, pitch shift them while retaining formants is amazing - extreme effects while retaining intelligibility of the original audio is something I wish more effects of this ilk had. 
Spectre is the most versatile, useful and musical saturation plugin I've ever used at this point. More and more, I find myself only using EQ for subtractive, more utilitarian causes - when I want to enhance, sweeten, fortify and pronounce something in a piece of audio, aka additive - I reach for this. Generating and stimulating new harmonics in very precise ways, with very warm-sounding algorithms is what this thing does best. As a muti-band "sonic enhancer" and harmonic saturator, it stands out because of it's available algorithms: Tube, warm tube, solid, tape, diode, class B, bit, digital, rectify and half rectify - they sound amazing, however colored vs transparent of a result it is that you're after - this is the perfect way to dial that in. For instance, I might want to add some warm top-end clarity to a vocal, that is highly pronounced - but then just a very subtle, musical sense of body to the low-mid of the same vocal - it's just very versatile and balanced in it's aims, and always sounds pleasing, even when you're kind of over-doing it. Much of this probably has to do with its 16x Oversampling - which ensures there are no aliasing issues that could easily arise with a plugin that does these things - the audio is just very clean and precise, but not cold/clinical. As they say: "You can add harmonics to parts of the spectrum without changing the overall level of the track." - this is perfectly summed up. Looking at the resulting audio through an oscilloscope (Psyscope Pro), the phasing results are also impressive - it's very precise and you don't need to worry much about introducing phasing inconsistencies, even at extreme settings, which brings peace of mind. I think this is the best saturation plugin out there right now - as far as a very versatile, well rounded effect on the more gentle, transparent side of things. It enhances more than it transforms. 
Another delay plugin, but I use this one for entirely different reasons than Other Desert Cities - they really aren't even in the same class/zone. While you can easily achieve more vanilla, traditional delays with this thing, the more I explore it, the more I find it to be very uniquely useful and one-of-a-kind… I actually mainly use it to create warm, swirling ambient drones, beds, ostinatos and melodic loops that have this very thick, distinct and ethereal feel. It's one of the more comprehensive and extreme multi-tap delay plugins out there with up to 32 different delay lines, and all the parameters you'd expect that come with that, but above all, what I love about it is the really unique FX you can put on the delay lines - formant filter, comb filtering, bit reduction, waveshaping and phasing - but all of that in combination with the most uniquely identifying section to me: the "Color" section, which provides a variety of Impulse Response (recordings of real acoustic spaces and sources), that you can run your delay lines through. The way UVI has done this part of the plugin deserves more recognition and special attention - I overlooked it myself until semi-recently. This section truly produces some amazing results, putting your delay lines into wildly different aesthetic directions, and completely changing the feel/context, and not subtly. Extremely. This results in having a huge assortment of very different feeling environments, and they are all super lush, textured, with varying degrees of harmonic focus. I find that running a melodic anything through this, playing with this section, and then resampling several different versions to have a variety of sound-beds, often which end up becoming intros, outros, supportive tonal layers, or ambient pieces unto themselves, is a really inspiring thing. This unit does this in a way that no other plugins have for me, in my personal experience. If you're into unique sounding delays, don't overlook or underestimate this one. 
All of these effects have a permanent residence in my environment, because they all do what they do very uniquely, and well. They all contain secrets and vast potential for unexplored realms of audio adventure that make them invaluable for building up a very unique sound palette. It should be quite obvious that in order to discover and cultivate your unique sound as an artist, developing your unique relationship to very unique instruments and effects will achieve a super unique sound palette! It deserves to be restated. I could go on and on here, but I'll do some future posts about what I experience to be uniquely useful instruments and effects…